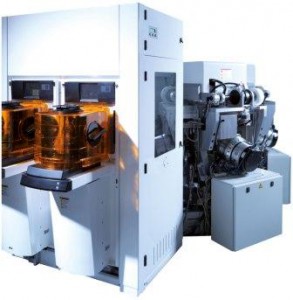 Oerlikon Delivers Packaging System "HEXAGON"
By Rogier Lodder, Senior System Engineer/ Oerlikon Systems
The new HEXAGON production system represents the next generation in high-throughput PVD production.  The new system is specialized for 300 mm packaging applications – under bump sputtering and backside metallization.  Combining an extraordinary throughput of 100 wafers / hour handling limit with a compact footprint and low running costs.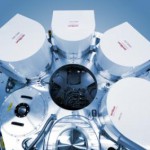 The high throughput performance of the HEXAGON has generated the most interest among packaging manufacturers.  One of the most remarkable features is the carrousel system that runs without a vacuum robot – fastest and most reliable wafer handling on the smallest footprint.  The resulting easy access to all system components greatly simplifies maintenance.
"Also, the new and improved process capabilities are part of what makes HEXAGON so fast," says Bart Scholte van Mast, Head of Engineering.
Compatible and fast
Based largely on Oerlikon's CLUSTERLINE® platform, the new HEXAGON features 5 process stations and a load lock.  The resulting six-sided configuration – hence the name – is typically configured with a degasser, a soft etch and additional PVD stations (Ti, Ni, Al, Cu).  Of course, HEXAGON is largely compatible with the CLUSTERLINE® 300 II platform which greatly eases process transfer.
 Further system specifications include:
Lowest total cost of ownership of any packaging system on the market
Safe wafer handling – less than 1 per 20,000 transfer error rate
High vacuum and cryogenically enhanced process chamber isolation
 "The HEXAGON is very fast, about 3-4x faster than other systems currently on the market," says Bart Scholte van Mast.  "We believe this will become the tool of reference for our packaging clients for the coming years."
For more information, please visit http://www.oerlikon.com/systems/hexagon/ or email us at sales@zmc.net